🍷MEMBERSHIP NEWSLETTER #08🍷
B for Bacchus Online
MEMBERSHIP NEWSLETTER 08
May 2021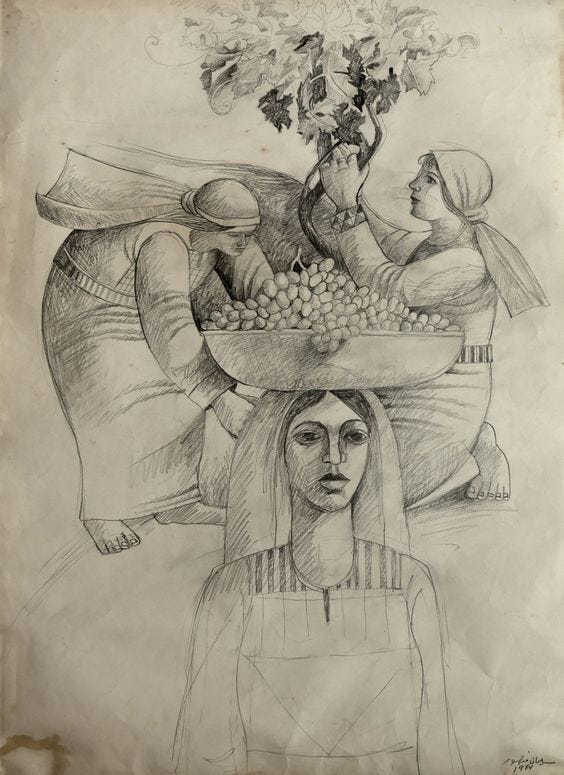 "Collecting Grapes" by Sliman Mansour, 1984
Hi lovely members,

It's been eye-opening to watch Palestine through my screens and see how the place I live in now (USA) reacts, or doesn't. In Dima Srouji's Living the Nakba over and over, she says, "I understood that the world was oblivious to what was happening to us; I felt other. The pain of being unheard was more piercing than the knowledge of potential death." Watching the last few weeks unfold made me confused. Many prominent speakers for justice suddenly didn't see the need to speak for Palestine with the same fire. Why is there so much silence? Why must Israel go unchecked? I'm not Palestinian but, to me, their fight doesn't feel separated from any other call for liberation. As Lebanese, we have felt the wrath of the State of Israel and it isn't a fraction of what the Palestinians have survived for over 73 years. They are our neighbors and they are family - why is this even a debate?

In the book (mentioned below) I'm currently reading, the author references an article by Brittany Packnett on how to "spend your privilege." What it means is that you can spread your figurative wealth by helping others because privilege does not run out. The benefits that you are born into cannot be stripped from you but they can be used to lift others. With all that is happening, those who are safe can spend their privilege to amplify Palestinian voices that are not being heard or seen. Do not let the ceasefire convince anyone that things are resolved. While many of our governments are complicit in genocide, we don't have to allow it and when it comes to wine, please be mindful of where you choose to put your money.

Some updates:

Members, you heard it here first: the Bacchus shop is live. This is not the Red Bubble shop (which is having a sale from the 28th - 1st btw) but a whole new site where you can book wine classes and buy downloadable copies of Aanab, the new quarterly mini-newspaper I'm launching. Should you ever want a digital version of an older issue of Aanab, the shop is where you'll find them. For those of you who subscribed before May 1st*, you'll be getting a print copy of the first issue of Aanab in your June mailer! This issue features a (brief) deconstruction of French influence on Lebanese wine, the concept of survivance, and more tidbits. For new subscribers, your swag envelopes are being sent out AND I'm packing and addressing the June mailers next so most of you should expect to see mail from me in the coming weeks. I have more plans for the shop which I'll share with you soon - and before the rest of the world.

As for wine classes, I've scheduled a virtual History of Lebanese Wine class for next month. Your membership includes 1 free online class per year so if you'd like to cash that in to attend the class on the 20th, reply to this email with your preferred timezone so I can save you a spot.
Love & olives,
Farrah
B for Bacchus Creator & Host

*If you signed up for the membership after May 1st, you'll get your first mailer in September which will include the second issue of Aanab. 
- - - - IG FEATURE - - - -
- - - - WORK IN PROGRESS - - - -
AND OTHER STUFF I'M DOING/DRINKING/READING
AUDIO
I've had a few printing hiccups with the mailers so I've been scurrying to get all that sorted in time for send-off. Once they're en route, I'll get into my coat-closet-studio and churn out a new episode for your ears. Moving here has been a slower transition than I'd hoped but I'm almost there.

WRITING
I received my advanced copy of the latest issue of The Wine Zine. Besides being proud of the article I put together, there is also one written by my friend, Fernanda Ghazarian, about Armenian wine's return to the scene. There's also a conversation about arak-for-piquette expertise exchange between Mersel Wine's Eddie Chami & Todd Cavallo of Wild Arc Farm. I haven't even finished flipping through it and I'm already so proud to be part of it.

READING
I'm reading Professional Troublemaker by Luvvie Ayaji Jones as recommended by Julia Coney during a talk she gave at the Be the Change Virtual Job Fair. If you're in need of a push into the sunlight, the book is a great way to get pumped up about your own gifts. Here is Luvvie's TED talk.

WATCHING
The other day, this panel was on streamed live and I played it on my afternoon walk. I recommend watching the whole thing as the speakers, including Mohammed El Kurd and Fayrouz Sharqawi, command such power through their words. Plus it's incredible to watch Dr. Angela Davis get fired up.

COOL STUFF YOU SHOULD CLICK
Unions, Labor Rights and the Future of Winery Workers by Jahdé Marley
Chinese Wine Explained by Terry Xu
Weed and Wine Come Together in Santa Ynez Valley by Nick Welsh
- - - - WATCHING WINE - - - -
Featuring an interesting film or video on wine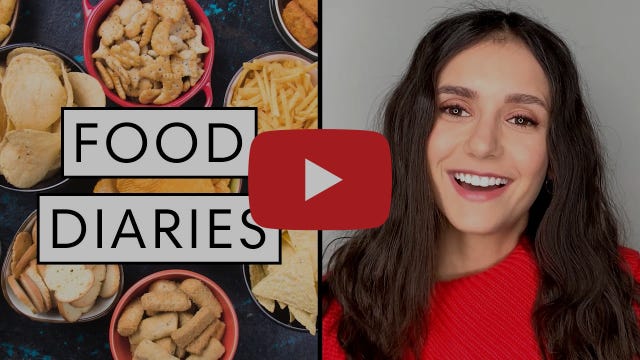 Apparently, TVD's Elena launched her own wine company.
Here she is in Harper's Bazaar #FoodDiaries series - watch Binging with Babish's too.
 
- - - - WINE GRAPE OF THE MONTH - - - -
A quick glance at a grape used for winemaking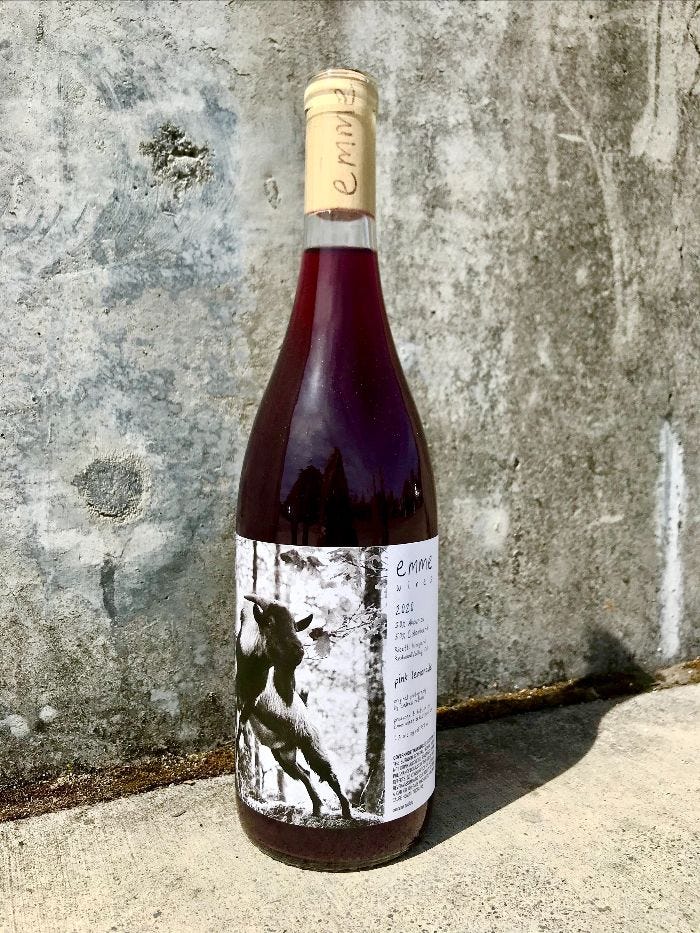 I'd never heard of this French grape until a few weeks ago. It was thought to be Gamay but DNA tells us it's a unique red grape.

ABOURIOU aka "Early Burgundy"
Grown as a filler grape in South of France & California

High-tannin, low-acidity
In the photo: Emme's 2020 Pink Lemonade

 
- - - - thank you for your support - - - -