🍷B FOR BACCHUS | MEMBERS ONLY #14🍷
B for Bacchus Online
MEMBERS ONLY #14
January 2022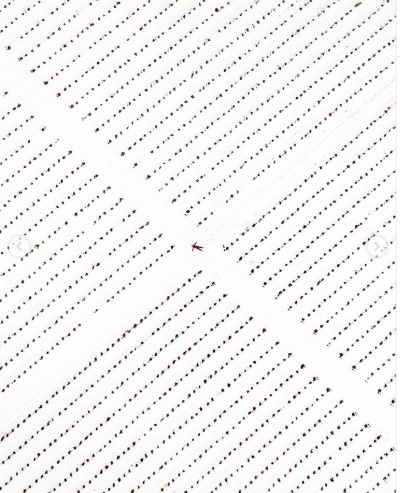 Snow-covered vineyards in the Bekaa Valley, 2022 - Rami Rizk
Hi members,

Before I lose your attention, please fill out this form so I know how you've been feeling about the mailers/membership so far. I HATE THIS STUFF TOO but I really do read them all and love hearing your thoughts on these packages I send out. It's very fun for me to feel like VinSanta all year.

In case you missed the memo in the regular newsletter that went out earlier this week, I'm tweaking the mailers' structure this year. You will still receive 4 mailers a year - in March, June, September, and December. The difference is that they will be of two types.

March & September will be solo in that they'll feature new items that are to be sold on the Bacchus shop before they're for sale to the public, like postcards and/or stickers or whatever else comes along, plus the usual note from me and the occasional surprise item or donation to a trusted organization.

June & December will be collaborative in that they'll include an issue of Aanab, which is now biannual. The issues will be a little bigger (not a huge Sunday Times, it's still a thin newspaper) and thus have more room (and funding) to feature original work from other writers and artists.

In a way, it may feel like fewer items are arriving in the mail but that's not the case. If anything, I want to refresh the mailer experience so that you're not always getting more of the same thing. I want to work with the artists I admire rather than just reprint something they've already done and I want to keep building on the things I've already created as well.

Please remember to update your address on Patreon if you move and let me know as I use a separate program to print out all the address stickers. I won't update the mailing list unless I know I need to. And if you're new to the membership, you will be getting your first mailer in March! Yay!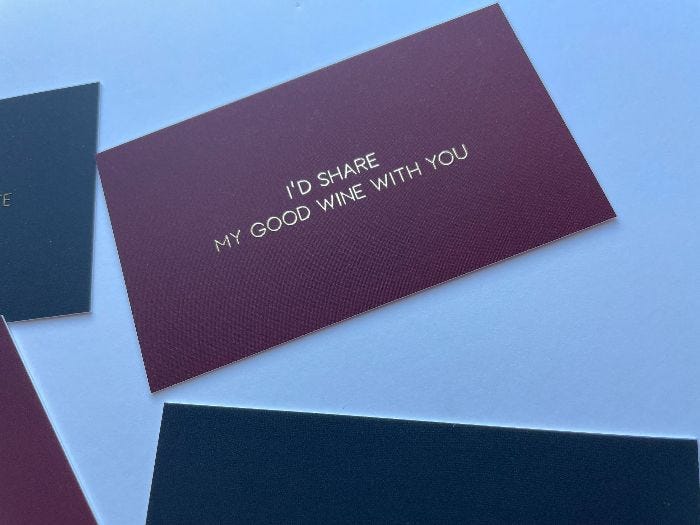 Some new stuff that's out: The Wine Zine 06 and some cheeky/cheesy cards like the one above are now on the shop. I'll be spending my Sunday packing some orders and fine-tuning more card designs that will drop soon. Want some sneak peeks on Patreon? How about new stickers? Now's the time to share your thoughts!

Love & olives,
Farrah
B for Bacchus Creator & Host
- - - - WORK IN PROGRESS - - - -
AND OTHER STUFF I'M DOING/DRINKING/READING
AUDIO/WRITING
I'm working on a new article for Tim Atkin MW and I will eventually get around to being interviewed by Hazine blog. I haven't been pitching lately as I've decided to scale back on the rat race of writing. I'm prioritizing who I work with rather than collecting bylines. It's an exhausting chase I'm not interested in. I do feel a new Bambi blogpost brewing but it's not fully there yet.

READING/WATCHING
Darine Hotait and Hala Alyan have a new short film on The New Yorker titled Tallahassee. I've also finished Netflix's Archive81 starring Dina Shihabi (Ramy) and I've started Euphoria and Ozark after seeing memes everywhere. As for reading, I bought 4 more books I don't need to be adding to my WTR pile but I've started Day of Honey by Annia Ciezadlo in an effort to make a dent in one of the piles. I recommend everything listed here...or maybe leave the house? I'd blame Covid but it's been over 2 years so this is who I am now.

STUFF YOU SHOULD CLICK
New Bambi Translation Reveals the Dark Origins of the Disney Story by Joanne O'Sullivan
Savoring the Past on Aljazeera
32 Years After Civil War, Mundane Moments Trigger Awful Memories by Maria Abi Habib
Memory Box by Joana Hadjithomas and Khalil Joreige
A superfood fit for a pharaoh by Sarah Freeman
 
- - - - WATCHING WINE - - - -
Featuring an interesting film or video on wine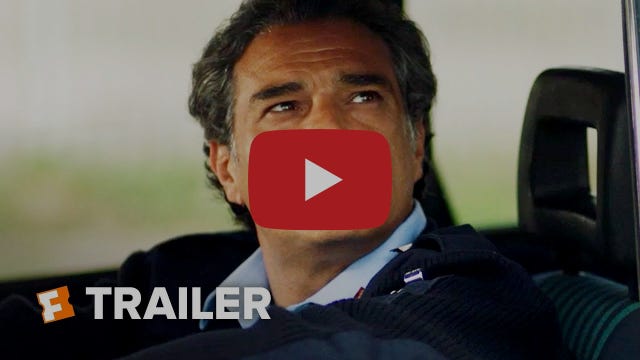 Cute, cheesy movie that reminds me of Under the Tuscan Sun. Available on Amazon Prime.
- - - - thank you for your support - - - -