B FOR BACCHUS: MARCH MAILER 2022
You've Got Mail.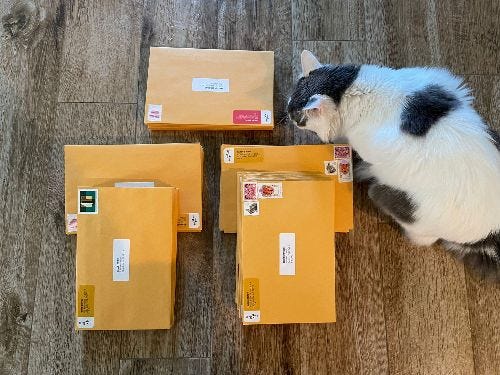 Inspection Complete.
Penny says they're on their way!
Your MARCH 2022 mailer has been packed and sent. If you haven't received your DECEMBER mailer yet, please call the local postal service (particularly LibanPost) to check if it's been sitting in a backroom somewhere. For those of you in the UAE that are still having trouble receiving mail, I'm holding onto your mailers until you give me an updated PO BOX address that we can test.

This mailer DOES NOT have a new issue of Aanab. However, it does include some new items that are going live on the shop soon.

On the mailer envelope, you'll see a sticker with a QR code on it.
Please scan it with your phone camera and fill out the short form that pops up so I know that it reached you. There's also a second QR code on the note inside. That'll send you to a form where you can rate each of the new items. I'd love to know what you think!

Love & olives,
Farrah
B for Bacchus Creator & Host

If you signed up after Feb 1st, your first mailer will be in June - sooner than you think!