B FOR BACCHUS | MAY 2022
B for Bacchus Online
May 2022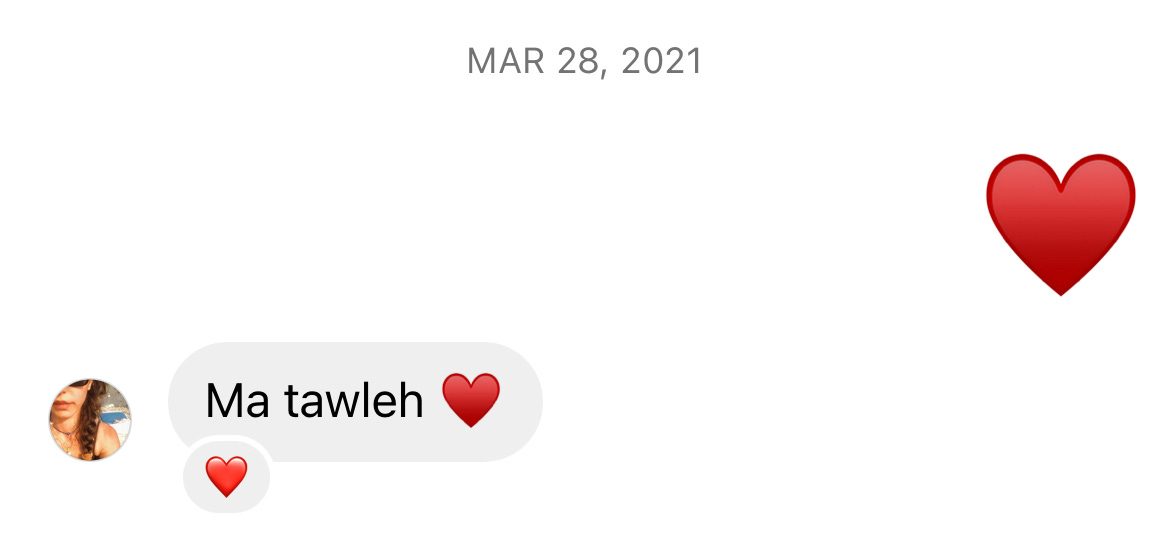 A DM from my friend, Zeina, on the night I left Beirut. It says, "don't take too long."
OVER A DOZEN SEATS! For those who don't follow Lebanese politics, our parliamentary elections were this weekend. The results are finally in and, although the majority still went to traditional parties, we got new names in there. Many of those names are people who've been working for the country for years now and this is a culmination of tiles placed one by one since the garbage crisis of 2015 - even before that too. There were some candidates who I thought were a no-brainer but they didn't make it through this time. I know there are many things to be upset about when it comes to this process and there were concessions and alliances made that I don't agree with. I understand the frustration of going from revolution to having to negotiate with aged scum but I'm choosing to see this small victory as another crack in their armor.

In 2019, protesters kept fighting to physically get into the Parliament building as we chanted in the sterile streets of downtown. At the time, I didn't see the point of getting inside just for the sake of symbolism. This earned presence is different. When we lost the Beirut Municipality in 2016, it wasn't a landslide. When 2018 rolled around, we took notes. Organization got better. And now in 2022, we have 2 seats in my district of South 3 (a Hezb/Amal guaranteed spot, long thought to never be penetrable). I wish I could've been there to vote (I couldn't vote from here, ID issues) and scream THAWRA! to everyone who told me I was foolish for believing change could happen. I didn't know how much I wanted to be there for this until it happened and my only consolation is that I know more days like this are coming. But it must be said: let's not get too drunk on this. The work continues from here and we have very hard days ahead too.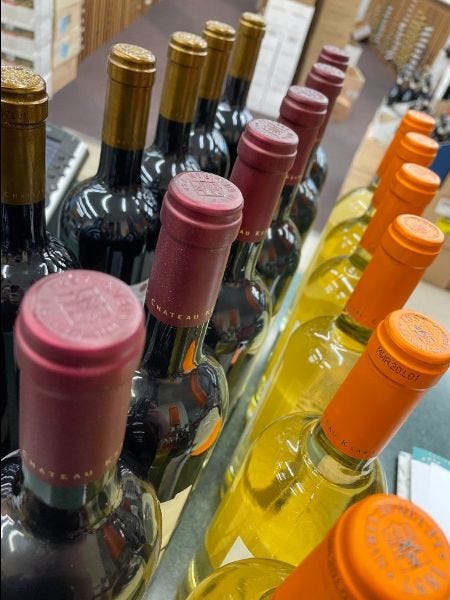 Packing an order of 18 bottles of Ksara last week
Anyway, back to wine. I've been working on the next batch of Bacchus stuff (see below) and more is on schedule as the summer pulls up. I'm expecting my trip to Beirut to derail me so I'm preparing for that. Flying home from California is never as simple as taking a train back for a weekend. The two weeks there will be bookended by two weeks of stress. Between packing, jet lag, and then shaking off the sadness to plug back into the Matrix, I'm already expecting to start off the summer in a bittersweet blur.

Last month, I was studying how the inventory of the wine shop I work at has changed over time. When I was first hired, "Lebanon" was so negligible that it clocked in at 0% of the inventory. They had sold 99 Lebanese bottles (all Musar) during the entire year before I joined. During the first 6 months of employment, I'm happy to report that I've bumped that to over 10 different bottles and sold over 500. That was based on 3 weeks ago but I wonder what the numbers will be at one year. It's not all me, of course. The fact that the wines are good has helped my colleagues & I move more and more bottles. But I'm convinced having someone on the ground makes all the difference. One vote at a time.
Love & olives,
Farrah
B for Bacchus Creator & Host
- - - - PODCAST'S BACK - - - -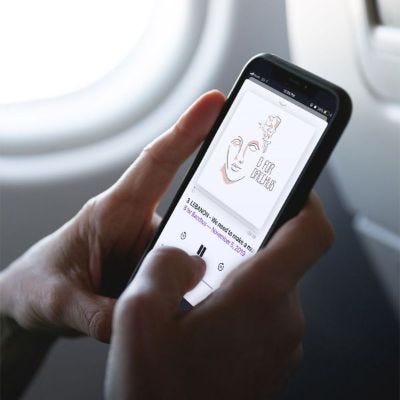 Season 3 is finally here!

For the first episode, I'm the one being interviewed for a change. My friend, N.A. Mansour, does the questioning this time. Check it out wherever you get your pods.

This season is dedicated to the memory of my friend, Zeina Mokdad.
- - - - AANAB No.3 - - - -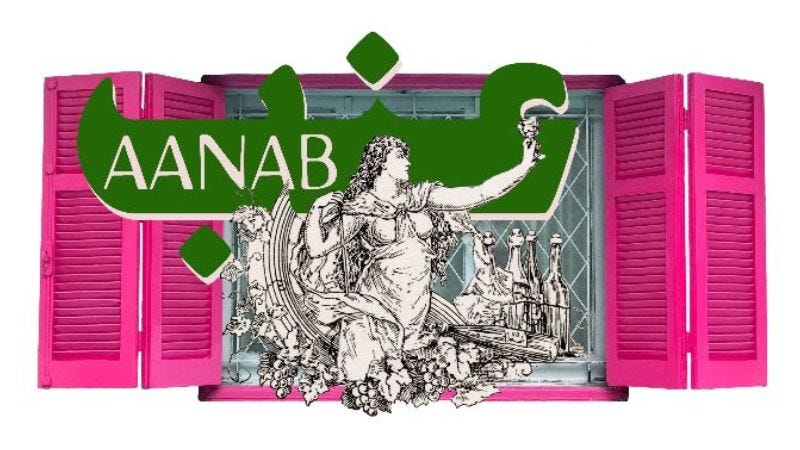 The expanded (8 pages instead of 4) Aanab No.3 mini-newspaper on wine is coming out next month! This issue features:
Coming to America: Importing Ancient World Wine by Farrah Berrou

Our Eyes on the Ground with Rita Kabalan

The Origin of Zibibbo with artwork by Ghyda Helou, ...and more!
Bacchus Members automatically get a copy in their June mailer. If you're not a Member but you're interested in getting a print copy, pre-order one here. Pre-orders are not at a discounted price but they're a guarantee that you'll get a copy. Quantities are limited. Digital copies will be available in July.
- - - - THE WINE ZINE 07 - - - -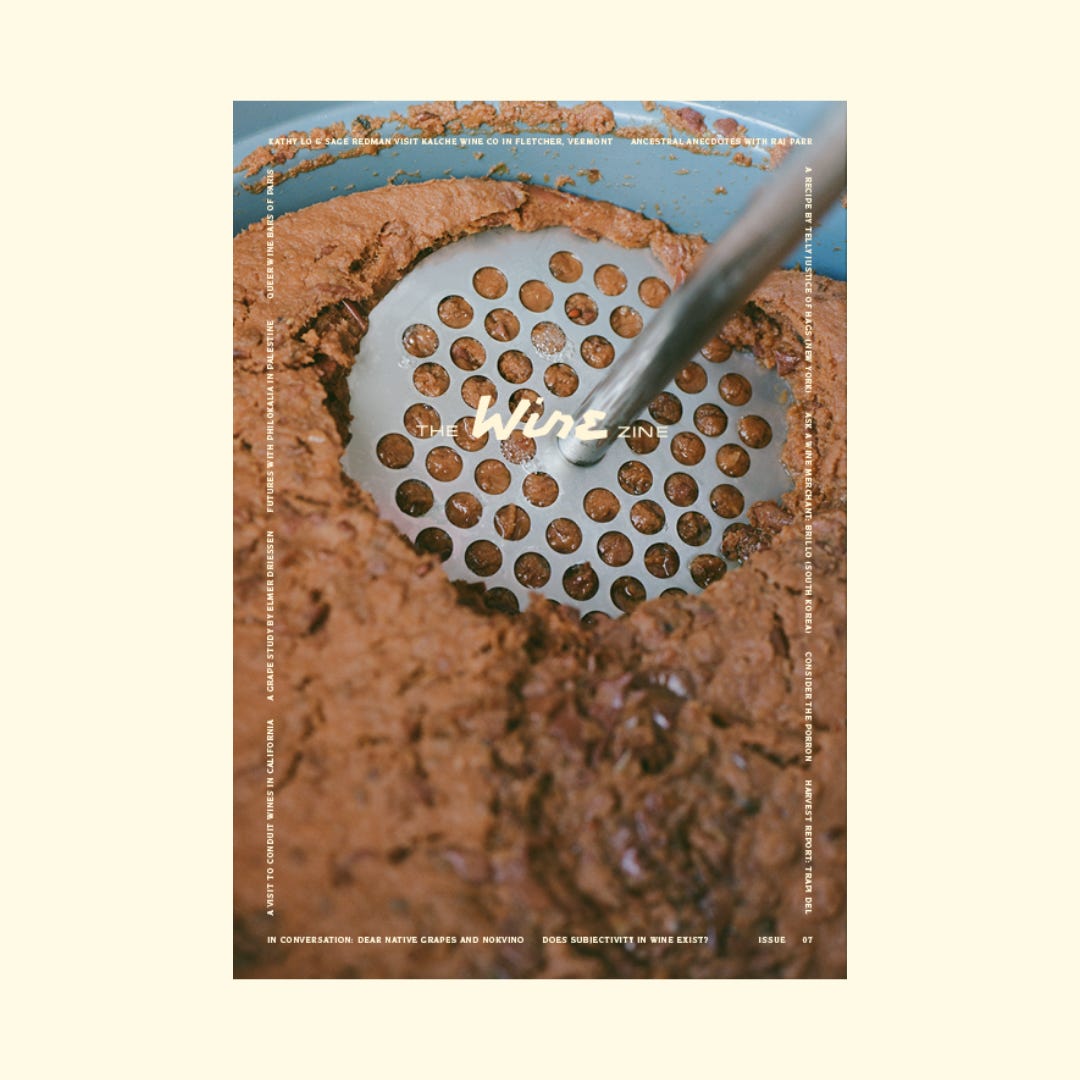 For this issue, I had a couple of conversations over the phone with Sari Khoury from Palestine's Philokalia Wines. I wrote a profile on what he's trying to do in Bethlehem. 

*I won't be doing a giveaway for this issue so if you want one, you're going to have to pre-order it!
Get a copy here.*
- - - - SHOP STUFF - - - -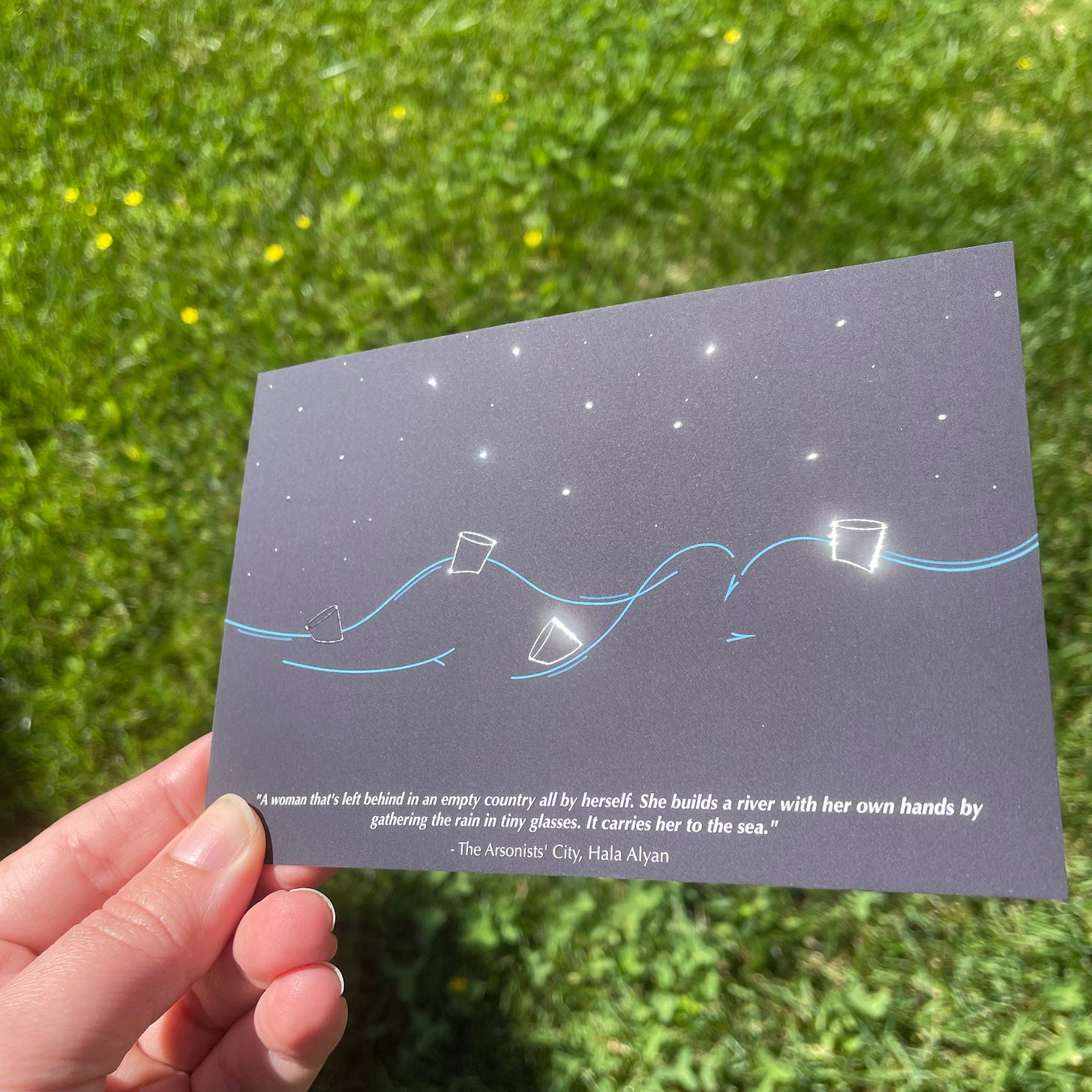 A new postcard has been added to the shop - one that was featured in the March Mailer! - and it features a graphic inspired by Hala Alyan's novel, The Arsonists' City.

All profits from the sale of this postcard go to Egna Legna.
- - - - 5 THINGS TO CONSUME - - - -
Elections breakdown with Kareem Chehayeb
"Whiskey Woman," Meet "Vodka Bitch" by Rax King
What the Supreme Court Leak Could Mean for the American Wine Industry by Emily Saladino
How art helped me see the beauty in loneliness by Olivia Laing
Shireen: Voice of the voiceless victims silenced by Marwan Bishara

If you'd like to read previous issues of this newsletter, click here.
- - - - LOVING EVERYTHING YOU SEE HERE? - - - -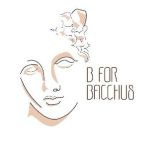 Join the Bacchus Membership!
You can show your support and receive tons of extra content (and goodies in the mail every few months) for 5 USD/month.