🍷B FOR BACCHUS | MEMBERS ONLY #16🍷
B for Bacchus Online
MEMBERS ONLY #16
May 2022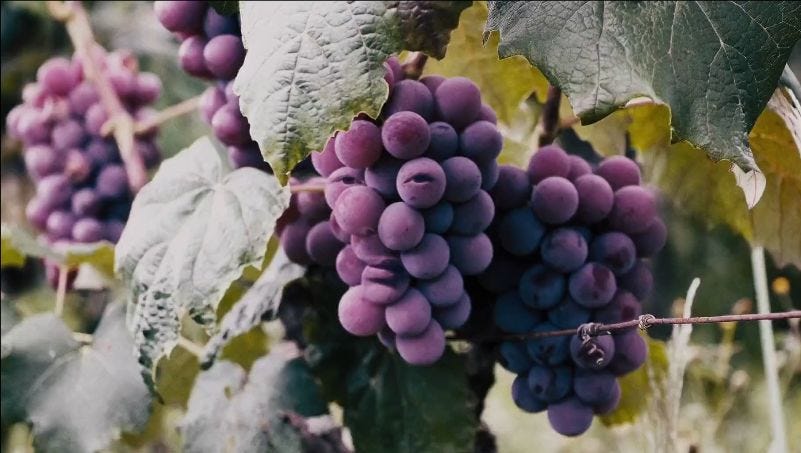 Shot from the film, Everything, Everywhere, All at Once
Hi members,
Shortly after getting home from my Sunday shift, the power was cut for 3 hours. Unlike Beirut, California is not outfitted for power cuts but my Lebanon training meant I was unbothered by this technological hiccup. I lit my Beit Jeddi candle while Penny watched bunnies from the window. A neighbor's dog was being walked; it saw her, and it thumped into the glass. I'm sure there was a maniacal laugh happening in her head because she didn't even flinch. She just stared back at it from her impenetrable condo. But even in the dark with no wifi, my mind couldn't sit still. I hopped from I need to finish Aanab to should I move to the East Coast or just ditch the US altogether to what did that guy with the MATH baseball cap think of the orange wine I suggested?

I watched Everything, Everywhere, All at Once last Tuesday. If it's showing where you are, go see it. It's unlike anything I've seen in a long time, maybe ever. When you do watch it and need someone to reflect on it with you, email me or read this. Without wanting to give away too much, it explores the theory of multiverses and the existence of multiple versions of ourselves that, with every choice made, branch off into a new dimension (that's not a new idea but the execution is insanely entertaining and emotional). If you try to access too many lives, you will be left with a fractured mind. Among the many metaphors of this film, I've been thinking about that one lately. How many versions of yourself can you actually explore in one lifetime? Trying too many is like pawing at the strings of a dozen balloons that have slipped out of your fingers, all while your actual life passes you by.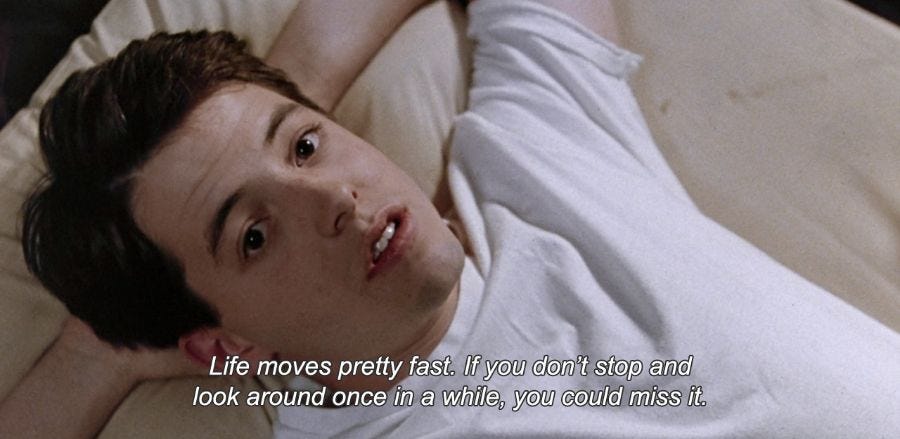 As the great Ferris Bueller once said.
I spent a couple of hours on the road (thank you, LA traffic) to go to the LACMA about two weeks ago. I went to check out the exhibits of two artists I enjoy: Barbara Kruger and Alexander McQueen. Kruger's work uses striking text to make statements on consumerism, sexism, and societal behaviors. I like her work because it makes me think. For the late McQueen, their fashion designs were juxtaposed with source material - be it art, vintage clothing, or objects. They stitched traditional tailored trims with darkness and edge. Both left me inspired to create and write with more ferocity but, by the time I got home, I just wanted to lie down. Driving down highways lets my mind wander onto new ideas but sitting in traffic makes my neurons go to sleep. Basically, the idea of time being finite is what I'm hyperaware of here in LA. So much of it is being spent and, like sands through the hourglass, so are the days of our lives. I keep coming back to the question: is this what you want this multiverse to be? How much sand is left?

The History of Lebanese Wine class is making a return later this summer after I'm back from Beirut. I've added some Virtual Table options to the shop after a few people asked about private classes. As always, please let me know your thoughts before I share this with the world next week. Lastly, please don't forget to update your mailing addresses and let me know you've done so!

Love & olives,
Farrah
B for Bacchus Creator & Host
- - - - WORK IN PROGRESS - - - -
AND OTHER STUFF I'M DOING/DRINKING/READING
AUDIO/WRITING
I conducted another podcast interview this week so we're on schedule. Of course, the interviewing is the easiest part of the process. Researching, writing, and editing are where it gets hard. Aanab is almost finished. It will be sent off to print and then off to you all in about 10 days (shit). No other projects are up in the air right now. I have some cards and t-shirts I really want to design but those are shelved until I get this issue completed. I can't wait to see it on paper!

STUFF YOU SHOULD CLICK

How Wine and Spirits Companies Are Navigating the Supply Chain Chaos by Andrew Kaplan
Whose Wine Is It Anyway?: The Origin Stories of Three Global Grape Varieties by J'nai Gaither
The Rich Are Not Who We Think They Are. And Happiness Is Not What We Think It Is, Either. by Seth Stephens-Davidowitz
What is Real Wine? by Peter Pharos
Omar Offendum revives the memory of New York's Little Syria through music by Farah Abdessamad

SONG ON LOOP
Obviously, this track from Moonknight. 
This track is the trap version of Penny's favorite song.
- - - - WATCHING WINE - - - -
Featuring an interesting film or video on wine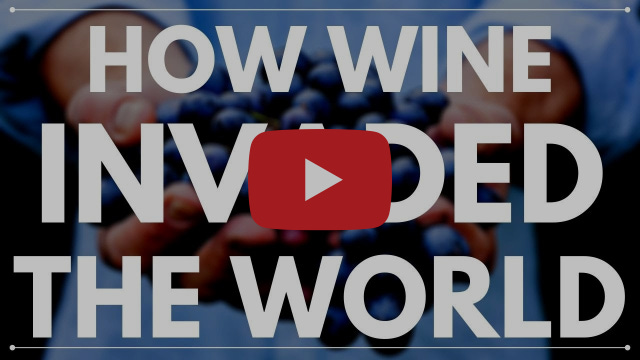 Pretty decent overview for 13 minutes
- - - - thank you for your support - - - -