B FOR BACCHUS | JUL/AUG 2022
B for Bacchus Online
July/August 2022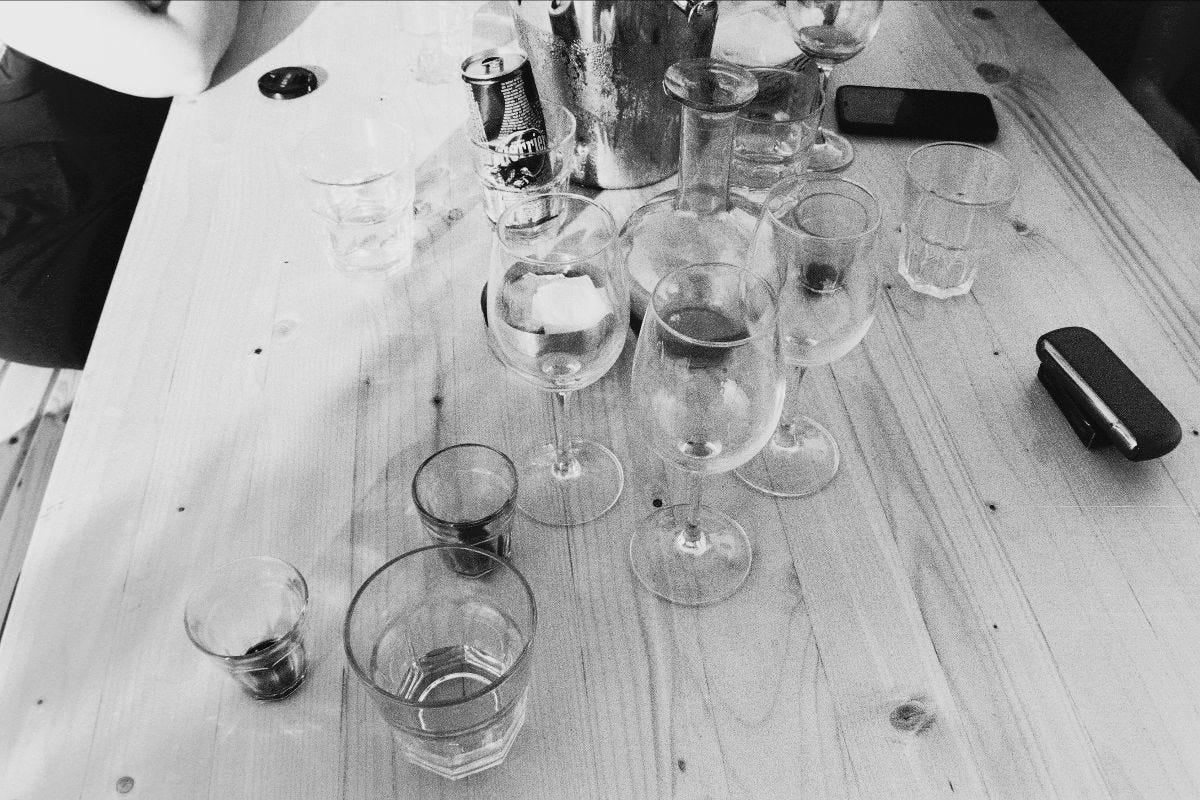 Coffee, wine, and water at Sept Winery
I've been back from Beirut for a month which I didn't realize until I started to type this out. It shouldn't be that shocking though as the 2 weeks there evaporated faster than rubbing alcohol on mosquito bites. I was a bit too ambitious with the list of things I wanted to accomplish between dodging COVID and enjoying Eid weekend. A big frustration was that I wasn't able to meet with as many wine people as I'd hoped. I didn't even visit the Bekaa or the South. The days slipped away and, despite being there for 14 days, I'd say it was more like 9 days between recovering from a 25-hour journey and preparing for the next one out.

I've deeply missed the ability to pass by. California is much too large and spread out to be able to pass by friends for an hour or two within your day. The ease of swinging from one plan to the next and the comfort of feeling surrounded by people that get straight into the depth of your thoughts? These are elements I haven't found in my isolated suburbs. To be fair, I also haven't (literally) gone the distance to find them. On the flip side, basic utilities were shit so the days were sticky and the nights stickier. The irritability I'd almost forgotten about crept back in. How can I be here without actually being here? Without moving back? Without moving backward?

It was not all oil-soaked scrambled eggs and carafes of arak, although there was a lot of that. The little voice was always there to remind me that this reality wasn't real. That the summer influx of people and cash was finite, that the inconsistent water/power/wifi was endless, that the wad of cash needed on the daily was criminal. I repeatedly poked my own delusional bubble no matter how tempting it was to believe that the denial we'd collectively entered was a good thing.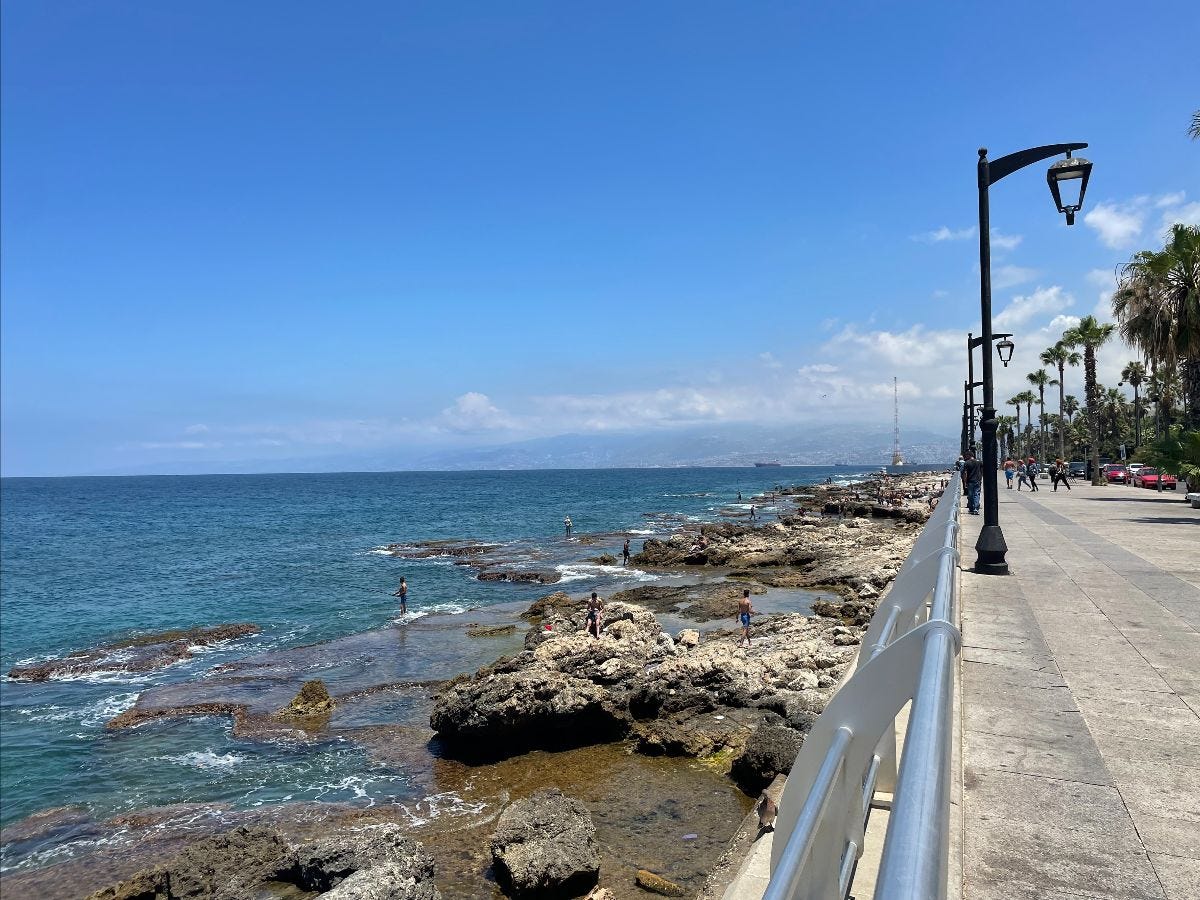 July 2022, my last day in BEY
Although not many wine-focused activities were had, I did manage to bring friends to Sept Winery for a lunch in the mountains. When introducing them to winemaker Maher Harb, I told him they all lived abroad but I was quickly corrected. We all live abroad, my friend said. 

"It's okay she's in denial," said Maher.

It's true. I had fallen back into my life in Beirut so quickly that I might as well have been coated in olive oil walking away from baggage claim. I am still in a temporary state of being. My fear that moving to California would disconnect me from what goes on on the ground was validated on this trip. On the other hand, I am aware that the distance has sharpened my voice and opinions on our industry. To put it briefly, a lot is happening back home which I will share in due time.

Since I left, parts of the grain silo at the port collapsed. Before the explosion, I have no memory of those huge structures even though I drove past them regularly. Now, the silos are burned into my timeline. Previously nonexistent, they've been left to rot and sink into the sea. We will fill the crater with sandbags and the invisible weight that sits on the chest of the city will get heavier.

As expected, Lebanon was a McFlurry of mixed emotions, and one friend wisely told me "don't make any big decisions while you're here" while another said that deciding anything in the opposite extreme of suburbia wouldn't offer objective headspace for decisions either. And so, here I am, volleying between two realities in America: one where things like August 4th and Palestine exist and another where they just...don't. I'm back to wine retail ethnography, counting lizards on walks, and always requestioning what I'm doing this all for and where it will take me. 
Love & olives,
Farrah
B for Bacchus Creator & Host
- - - - SHOP STUFF - - - -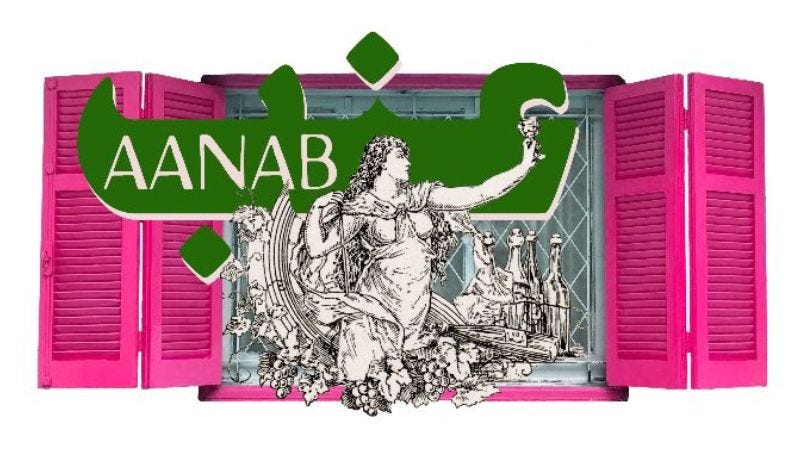 Bacchus Members have received their copies of Aanab No.3 by now! If you're not a Member but you're interested in getting a print copy, order one here. 

FOR THOSE IN BEIRUT, there are some copies available for sale (at a discounted price) at Sage Parlour, Ashrafieh branch.

Mark your calendars
NEW MERCH DROP ON OCTOBER 1st.
- - - - 5 THINGS TO CONSUME - - - -
Mia Khalifa donates $10,000 to Lebanese Red Cross on Beirut blast anniversary
The Problem with Wine Bottles by Eric Asimov
Chateau Ksara upgrades sustainability initiatives to tackle "extreme" climate pressure by Jo Gilbert
The Day My Wartime Cat Went Missing by Rasha Elass
A Guide to Armenia, One of the World's Oldest Wine Regions by Lauren Mowery

If you'd like to read previous issues of this newsletter, click here.
- - - - LOVING EVERYTHING YOU SEE HERE? - - - -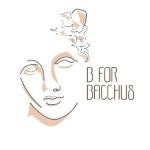 Join the Bacchus Membership!
You can show your support and receive tons of extra content (and goodies in the mail every few months) for 5 USD/month.