March 2023: London Fog and California Dreamin'
A flu I caught in London is still weighing me down but the countdown to Beirut begins
Last month, I missed two Tuesday posts because of my birthday and the flu, the most costly souvenir from London which I've yet to fully recover from. I made it out of bed to get through my last two weekends at the wine shop and take costly Ubers to and from a wine dinner with my now-former colleagues in Sherman Oaks. The next day, I woke up with a cough in full force so I'm back to Nyquil and bingeing Mad Men for the third time until the flu fog subsides.
Being in London again after 10 years since my last visit was such a treat and it reminded me how much I want to be in a walkable city that allows for regular closeness with people and easy/free access to inspiration. I still love the ease of the tube so much. These two years in LA have made me more appreciative of when I get to have concentrated time with the people I love to just be with. The people you vegetate on a couch with. Nothing more.
Since returning to the West Coast, I've been asking myself how permanent my next departure will be. How long will it be before I'm back here again? Packing two suitcases means I have to be honest with this upcoming exit: will you really read those books in the next year? How much space will my parents' Costco order of meds take? Is a three-month supply of x, y, and z enough?
Is this a move or just a long visit?
I booked my ticket yesterday. I've hesitated to call it a move because that feels permanent and daunting. Returning to Beirut has been the ill-advised option every time I've done it so I'm used to the concerned looks but Lebanon has also never been where it is now. In my cough syrup haze, I've been asked, "what's next?" many, many times. "Beirut in April for a bit and then we'll see" with the girl-with-her-hands-up emoji has been my answer and each time I type it, a little bit of panic trickles into my thoughtstream. Whenever I videocall with my parents' Beirut living room ceiling, my dad throws around business ideas that are rooted in Lebanon. There is a part of me that wants to indulge in that possibility and another part that shoots it down because it logically shouldn't be one. I can feel he's excited about my return because he's tired of steering the retail ship alone but Lebanon is still a dumpster fire and I'm still flying around with an empty extinguisher.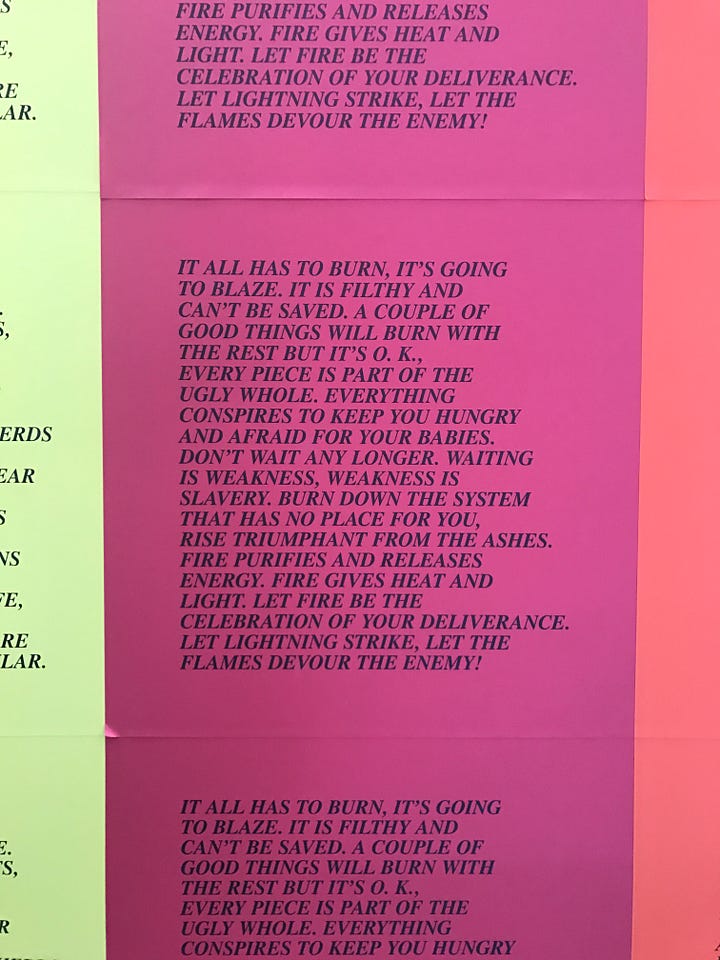 After I was irritated by something a customer said once and after sharing it with a colleague, he responded by saying that, to Americans, Beirut is like Vietnam. It's not a place, it's something that happened. I wasn't mad at this - it was poignant - but Beirut happened to us. It's still happening. It's still present tense.
Reminder:
it's International Women's Day tomorrow. Make sure to acknowledge and appreciate the women around you even in the smallest way (grocery store flowers or a hug works!)
---
10 LITTLE LINKS
---
UPGRADE TO A PAID SUBSCRIPTION
Thank you for continuing to read the words I send to your inboxes. Because I don't want to limit access to an already niche topic that is rarely covered by mass media, all my posts will remain free until 3 months after their initial publishing date. At that point, the posts will be paywalled. If you feel that you get value from my weekly dispatches and you are able to contribute, please consider upgrading to a paid subscription. It's as little as $5/month, $50/year, or you can put in a custom amount. As I continue to post, the archive will grow and become an important asset, particularly to those within the wine trade.
Remember: if you can't financially support the platform, I get it but please share and engage with the work across social media channels. That kind of support is valuable too!
---
MYSTERY BOXES
Since I won't be in the U.S. much longer, I've got to move as much merch as I can. I've got hats, beanies, mugs, cards, and miscellaneous items that are a) sold on the shop, b) part of the discontinued care packages or c) samples of designs I was playing around with.
If you'd like to snag a bundle of cute things, buy a mystery box for $60 + shipping.
---
COMING UP NEXT
Like I had planned last month, I'd like to take a look at the recurring issue the wine world has with attracting millennial & gen Z consumers but from the perspective of the Ancient World. That may be pushed again though as a new wine discovery has me questioning who the Ancient World includes.
Aanab News is a reader-supported publication. To receive new posts and support my work, consider becoming a free or paid subscriber.